The Search for Tishomingo

by Janet Hirsch

At a recent LTIA dinner meeting my friend told me that "Tishomingo" means "Healing Waters." When I asked "In what language?" The response was "Indian." Well, "Indian" is too generic and that started my search for the origin of the word "Tishomingo" and I think I found it.

Distractions
---
During the search I came across Tishomingo County Mississippi, Tishomingo County Oklahoma, the recent novel (and soon-to-be movie) "Tishomingo Blues" by Elmore Leonard, Tishomingo Fish and Wildlife Preserve, Tishomingo State Park (with $1050 per week cabins), and the theme for Garrison Keillor's Prairie Home Companion, the classic Dixieland song "Tishomingo Blues," written by Spencer Williams in 1917. --jh
The real story is about the Chickasaw Indian Tribe. The Chickasaw Tribe was one of the great Indian nations of the early colonies. They lived in what is now northeast Mississippi and their lands extended west to the Mississippi River and north to the Ohio River. The Chickasaw were considered to be attractive, educated, and very good at commerce for they traded frequently with their neighbors.
The head chief of the Chickasaw Tribe was called "mi ko" in the native language. The warrior chief was the second in command of the entire tribe and he was called "tishu mi ko." This literally means "assistant to the chief." The last head chief of the Chickasaw was Ishtehotopa and his warrior chief was Tishomingo. Chief Tishomingo was the last great warrior chief of the Chickasaw Tribe.
Chief Tishomingo served with General "Mad" Anthony Wayne in the war against hostile Indian tribes and received a silver medallion from George Washington for his service. The Chief made several trips to Philadelphia and Washington DC. Later he settled down to a comfortable life riding horses, raising livestock, and hunting deer until the white settlers encroached on his land.
The first recorded observation of the Chickasaw was by DeSoto in 1540 and official relations between the Chickasaw and the United States began in 1786 with a treaty that established the Ohio River as the tribe's northern boundary. More treaties followed that took away land and rights from the tribe until in 1837 a pivotal agreement was reached. The Chickasaw were to leave Mississippi and resettle in Oklahoma with the Choctaw.
The migration took place in the winter of 1837-38. The tribe of about 4000 traveled to Oklahoma. They suffered deprivations and epidemics. Chief Tishomingo died on the Trail of Tears in 1838 and was buried near Little Rock. He was 102. From all accounts he led a long and honorable life. Tishomingo was said to be the "heart" of the tribe and was so loved and respected that he is represented on the Great Seal of the Chickasaw Nation. He was very well liked and in later years enjoyed telling stories of the past and giving rides on his red-spotted pony to the children of the neighboring white settlers.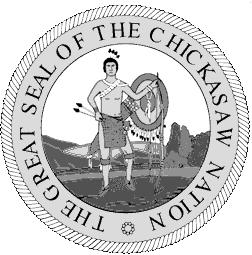 Why our lake was named "Tishomingo" and what about the "Healing Waters?" I haven't found the answers to these questions yet, but I'm still searching.